Mainline Railway Stamps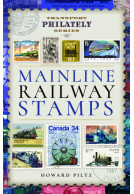 Released: 11th February 2019
RRP: £16.99
Introductory Price:

£16.99



Publisher: Pen & Sword Books
Author: Howard Piltz
Type: Hardback
ISBN: 9781473871908
Pages: 99

Buy from Pen & Sword Books for

£16.99



For this second book in the Transport Philately series on public transport issues featured on postage stamps, once again the author will combine two of his life-long hobbies as he looks at railways around the world on standard gauge tracks that encompasses the majority of the western worlds major railway arteries. The book will also illustrate railways on other, similar gauges of track where they constitute a country's major arteries, but it is not an exhaustive survey encompassing every country and every issue for that one needs to refer to major catalogue issues by such well-known authorities as Stanley Gibbons Plc.

There have been many and varied reasons why postal authorities have issued stamps featuring railway subjects, varying from major anniversaries to national pride, the latter often from the former Eastern-bloc countries but that is not by all means.

The Royal Mail in the UK has certainly not ignored railways, especially in later years, and the author will visit probably more of his native country's stamps than most other countries, but he's biased.

The author often looks in his albums to try to understand why a particular country will sometimes be represented by bulging sections, whilst others are represented by but one or two stamps. And so, the book follows the story around the world in roughly an eastern journey, learning about some of the national histories on the way and admiring the attentions of some extremely accomplished artists that mean philatelists and rail-lovers alike can enjoy many beautiful miniature works of art.
Of further interest...