My Boy Jack?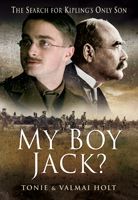 Released: 15th October 2020
RRP: £25.00
Introductory Price:

£20.00



Type: Audiobook

Buy from Pen & Sword Books for

£20.00



Republished to coincide with the new ITV film, My Boy Jack? starring Daniel Radcliffe, this is the full account of the tragic life of John 'Jack' Kipling. On 27th September 1915 John Kipling, the only son of Britain's best loved poet, disappeared during the Battle of Loos. The body lay undiscovered for 77 years. Then, in a most unusual move, the Commonwealth War Graves Commission (CWGC)re-marked the grave of an unknown Lieutenant of the Irish Guards, as that of John Kipling. There is considerable evidence that John's grave has been wrongly identified and for the first time in this book, the authors name the soldier they believe is buried in 'John's grave'. This is the first biography of John's short life, analysing the devastating effect it had on his famous father's work.
Of further interest...