No Mercy, No Leniency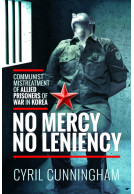 Released: 14th February 2020
RRP: £12.99
Introductory Price:

£12.99



Publisher: Pen & Sword Books
Author: Cyril Cunningham
Type: Paperback
ISBN: 9781526766786
Pages: 224

Buy from Pen & Sword Books for

£12.99



This is the most authoritative and comprehensive British account ever published of the brutal North Korean and Chinese mistreatment of British POWs during the Korean War.

The author, a psychologist, was a Scientific Advisor to the POW Intelligence Organisation during the Korean War.He explains in detail how many prisonors were bribed, starved, flogged and tortured into informing on their compatriots and infiltrated into every prisoner group to sniff out potentional "progressives and reactionaries".
Of further interest...