Radio Operator on the Eastern Front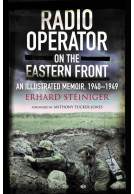 Released: 8th April 2021
RRP: £25.00
Introductory Price:

£20.00



Publisher: Pen & Sword Books
Author: Erhard Steiniger
Type: Hardback
ISBN: 9781784386184
Pages: 320

Buy from Pen & Sword Books for

£20.00



This is the true and dramatic testimony of a German grenadier during World War II.

Erhard Steiniger joined his Wehrmacht unit on 12 October 1940 as a radio operator, a role which required his constant presence with troops at the Front, right in the midst of combat. On 22 June 1941, he accompanied his division to Lithuania where he experienced the catastrophic first day of Operation Barbarossa.

He later witnessed intense clashes during the conquest of the Baltic islands and the battles leading up to Leningrad on the Volkhov and Lake Ladoga. He describes the retreat from battles in Estonia, Kurland and East Prussia and his eventual surrender and captivity in Siberia. He finally returned to Germany in October 1949, a broken man.

From the first page to the last, this is a captivating eyewitness account of the horrors of war.
Of further interest...