Rome: Republic into Empire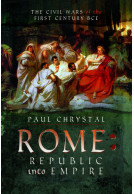 Released: 25th March 2020
RRP: £25.00
Introductory Price:

£9.98



Type: Kindle

Buy from Pen & Sword Books for

£9.98



Rome: Republic into Empire looks at the political and social reasons why Rome repeatedly descended into civil war in the early 1st century BCE and why these conflicts continued for most of the century; it describes and examines the protagonists, their military skills, their political aims and the battles they fought and lost; it discusses the consequences of each battle and how the final conflict led to a seismic change in the Roman political system with the establishment of an autocratic empire.

This is not just another arid chronological list of battles, their winners and their losers. Using a wide range of literary and archaeological evidence, Paul Chrystal offers a rare insight into the wars, battles and politics of this most turbulent and consequential of ancient world centuries; in so doing, it gives us an eloquent and exciting political, military and social history of ancient Rome during one of its most cataclysmic and crucial periods, explaining why and how the civil wars led to the establishment of one of the greatest empires the world has known.
Of further interest...