Shipcraft 3: Yorktown Class Carriers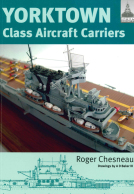 Released: 12th March 2019
RRP: £14.99
Introductory Price:

£14.99



Publisher: Pen & Sword Books
Author:
Type: Paperback
ISBN: 9781848322271
Pages: 64

Buy from Pen & Sword Books for

£14.99



This is the third volume in a innovative series providing ship modellers with all they need to know about a famous class of warship and associated model kits. The subject of this volume is the Yorktown class, the near-legendary American aircraft carriers that kept the Japanese at bay in the dark days between Pearl Harbour and the decisive battle of Midway, where Yorktown herself was lost. Hornet launched the famous Doolittle Raid on Japan before being sunk at Santa Cruz in October 1942, but Enterprise survived the fierce fighting of the early war years to become the US Navy's most decorated ship. With its unparalleled level of visual information - paint schemes, models, line drawings and photographs - it is simply the best reference for any modelmaker setting out to build one of these famous carriers.
Of further interest...