Struggle and Suffrage in Southend-on-Sea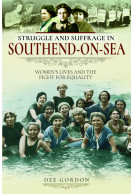 Released: 18th April 2019
RRP: £14.99
Introductory Price:

£8.99



Type: Kindle

Buy from Pen & Sword Books for

£8.99



While Southend-on-Sea, like many seaside towns, may not have been at the forefront of the struggle for suffrage and equal rights in the lives of women between 1850 and 1950, there are surprisingly famous names linked to the town and its women. Novelist Rebecca West, living in nearby Leigh-on-Sea during the First World War (and her lover, H.G. Wells) played a key role in the suffrage and feminist movements and in women's entry into the scientific and literary professions. Princess Louise, a visitor to the town, was known to be a feminist, regardless of her position, and Mrs Margaret Kineton-Parkes (founder member of the Women's Tax Resistance League and involved in the Women's Freedom League) gave a number of talks to the town's female population. The most high profile of local residents was Mrs Rosa Sky, the one-time Treasurer of the Women's Social and Political Union and an active member of the Women's Tax Resistance League, but others were quietly active behind the scenes.

This book is not about the distinguished and illustrious, it is about women from all classes, from all kinds of backgrounds, who entered the world of business, who rebelled against the traditional roles of mother, home-maker or domestic servant. It is about women struggling to come to terms with changes at home, in marriage, in education, in health care and in politics. It is the first to look at these issues as they impacted on a town whose population and visitors were growing in line with the expectations of its female population.
Of further interest...