The Food Lover's Guide to Paris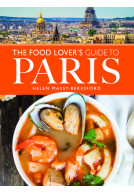 Released: 9th September 2019
RRP: £12.99
Introductory Price:

£4.99



Type: Kindle

Buy from Pen & Sword Books for

£4.99



Paris may have enjoyed decades as the undisputed gastronomic capital of the world, but food revolutions in the likes of London and Copenhagen have challenged its reign in recent years.

After a spell of complacency, Parisian chefs have had to up their game, with delicious results. This guide will show you where to sample the best of the French classics, from cosy bistrots to swish brasseries, as well as where to check out the more recent innovations in the Parisian food scene: everything from high quality street food with a French twist, to newly-popular vegetarian restaurants, juice bars and locally brewed craft beers.

The guide will also offer a practical guide to making the most of your Parisian food experience like a local.
Of further interest...