The History of Gibbeting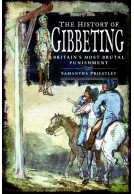 Released: 26th February 2020
RRP: £19.99
Introductory Price:

£15.99



Publisher: Pen & Sword Books
Author: Samantha Priestley
Type: Hardback
ISBN: 9781526755186
Pages: 150

Buy from Pen & Sword Books for

£15.99



The history of gibbeting is the story of one of Britain's most brutal forms of punishments, the hanging of criminals in a body shaped metal cage as a warning and as a form of justice. From the folklore of live gibbetings to the eerie historical documenting of this weird post-execution tradition, The History of Gibbeting examines how and why we dealt with murderers and other serious criminals in this way. The book uses case studies through history and takes a look at how the introduction of the Murder Act shaped our relationship with gibbeting for years to come, and how we as a society demanded the most shocking post-mortem treatment of criminals. Whether gibbeting was ever a successful deterrent, it is still a fascination today and gibbet cages remain on display in museums all over the country.
Of further interest...