The Imprisoned Princess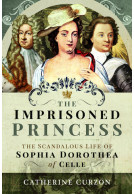 Released: 24th February 2020
RRP: £19.99
Introductory Price:

£15.99



Publisher: Pen & Sword Books
Author: Catherine Curzon
Type: Hardback
ISBN: 9781473872639
Pages: 200

Buy from Pen & Sword Books for

£15.99



When Sophia Dorothea of Celle married her first cousin, the future King George I, she was an unhappy bride. Filled with dreams of romance and privilege, she hated the groom she called "pig snout" and wept at news of her engagement.

In the austere court of Hanover, the vibrant young princess found herself ignored and unwanted. Bewildered by dusty protocol and regarded as a necessary evil by her husband, Sophia Dorothea grew lonely as he gallivanted with his mistress under her nose.

When Sophia Dorothea plunged headlong into a passionate and dangerous affair with Count Phillip Christoph von Königsmarck, the stage was set for disaster. This dashing soldier was as celebrated for his looks as his bravery, and when he and Sophia Dorothea fell in love, they were dicing with death. Watched by a scheming and manipulative countess who had ambitions of her own, it was only a matter of time before scandal gripped the House of Hanover and tore the marriage of the heir to the British throne and his unhappy wife apart.

Divorced and disgraced, Sophia Dorothea was locked away in a gilded cage for 30 years, whilst her lover faced an even darker fate.
Of further interest...