The Military History of Late Rome 361-395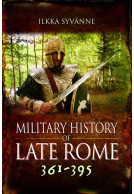 Released: 23rd March 2020
RRP: £30.00
Introductory Price:

£15.59



Type: EPub

Buy from Pen & Sword Books for

£15.59



This is the second volume in an ambitious series giving the reader a comprehensive narrative of late Roman military history from AD 284-641. Each volume (5 are planned) gives a detailed account of the changes in organization, equipment, strategy and tactics among both the Roman forces and her enemies in the relevant period, while also giving a detailed but accessible account of the campaigns and battles.

This volume covers the tumultuous period from the death of Constantius II in AD 361 to the death of Theodosius. Among the many campaigns covered, it therefore includes the Emperor Julian's fatal campaign against the Sassanian Persians and the disastrous defeat and death of Valens at Adrianople in 378. Such calamities illustrate the level of external threat Rome's armies faced on many fronts in this difficult period.
Of further interest...