The Operators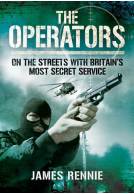 Released: 15th July 2020
RRP: £25.00
Introductory Price:

£20.00



Type: Audiobook

Buy from Pen & Sword Books for

£20.00



Few outside the security services have heard of 14 Company. As deadly as the SAS yet more secret, the Operators of 14 Company are Britain's most effective weapon against international terrorism. For every bomb that goes off 14 Company prevent twelve. The selection process is the most physically, intellectually and emotionally demanding anywhere in the world. Trained to operate under cover, Operators have at their disposal an arsenal of techniques and weapons unmatched by any other UK government or military agency. This is the true story of one Operator and of some of the most hair-raising military operations ever conducted on the streets of Britain.
Of further interest...