The Peenemünde Raid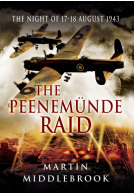 Released: 28th November 2018
RRP: £14.99
Introductory Price:

£12.99



Publisher: Pen & Sword Books
Author: Martin Middlebrook
Type: Paperback
ISBN: 9781844153367
Pages: 384

Buy from Pen & Sword Books for

£12.99



On the night of 17-18 August 1943, RAF Bomber Command attacked a remote research establishment on the German Baltic coast. The site was Peenemünde, where Hitler's scientists were developing both the V-1 flying bomb and the V-2 rocket whose destructive powers could have swung the course of the War. The raid was meticulously planned and hopes were high. But the night sky was so cloudless that the British bombers presented an easy target for German night fighters, and over 40 were lost. Martin Middlebrook draws on the memories of over 400 people involved in the dramatic events on that night: RAF and Luftwaffe aircrew, German personnel at the research site and foreign labourers who had been forced to work there. The result is a truly compelling account of this hazardous attempt to disrupt Hitler's V-weapons programme.
Of further interest...