The Royal Marines on the Western Front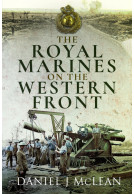 Released: 23rd February 2021
RRP: £19.99
Introductory Price:

£15.99



Publisher: Pen & Sword Books
Author: Daniel McLean
Type: Hardback
ISBN: 9781526763860
Pages: 144

Buy from Pen & Sword Books for

£15.99



From the mud of the Somme to the raid on Zeebrugge, the Royal Marines fought in almost every element of the Great War on the Western Front. Today they are known world-wide as an elite commando fighting force, but that has only been their role since 1940, a fraction of their period in existence. Until 1923 they existed as two corps – the Royal Marine Light Infantry and the Royal Marine Artillery – and both served with distinction along the western front in the great war. This book examines and explains the engagements in which they were involved, the equipment used and the organisation and training undertaken in hitherto unseen detail, drawing on a wide variety of sources to give an accurate picture of their contribution to the war in France and Belgium.
Of further interest...