The Seleukid Empire of Antiochus III (223-187 BC)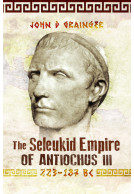 Released: 1st March 2021
RRP: £14.99
Introductory Price:

£11.99



Publisher: Pen & Sword Books
Author: John D Grainger
Type: Paperback
ISBN: 9781526774934
Pages: 240

Buy from Pen & Sword Books for

£11.99



The second volume in John Grainger's history of the Seleukid Empire is devoted to the reign of Antiochus III. Too often remembered only as the man who lost to the Romans at Magnesia, Antiochus is here revealed as one of the most powerful and capable rulers of the age. Having emerged from civil war in 223 as the sole survivor of the Seleukid dynasty, he shouldered the burdens of a weakened and divided realm. Though defeated by Egypt in the Fourth Syrian War, he gradually restored full control over the empire. His great Eastern campaign took Macedonian arms back to India for the first time since Alexander's day and, returning west, he went on to conquer Thrace and finally wrest Syria from Ptolemaic control.

Then came intervention in Greece and the clash with Rome leading to the defeat at Magnesia and the restrictive Peace of Apamea. Despite this, Antiochus remained ambitious, campaigning in the East again; when he died in 187 BC the empire was still one of the most powerful states in the world.
Of further interest...