Today's London Buses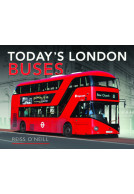 Released: 1st March 2021
RRP: £35.00
Introductory Price:

£28.00



Publisher: Pen & Sword Books
Author: Reiss O'Neill
Type: Hardback
ISBN: 9781473821040
Pages: 288

Buy from Pen & Sword Books for

£28.00



Today's London Buses, covers the London bus scene of the last ten years, including pictures of bus types used in the capital on its major services.

This volume looks at various routes accross London during this period and the variety of vehicles that have been used in that time frame.

Some of the services depicted in this book have changed, or ceased to operate, during the period covered in this book.

The author has set out to cover in broad terms, the colour and variety of London bus operation during this period of great change to bus services, during the last decade.
Of further interest...