War in Roman Myth and Legend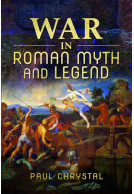 Released: 18th February 2021
RRP: £25.00
Introductory Price:

£9.98



Type: Kindle

Buy from Pen & Sword Books for

£9.98



This book redresses the relative lack of work published on the role of war in classical myth and legend. At the same time it debunks the popular view that the Romans had little mythology of their own and idly borrowed and adapted Greek myth to suit their own ends. While this true to some extent, War in Roman Myth & Legend clearly demonstrates a rich and meaningful independent mythology at work in Roman culture.

The book opens by addressing how the Romans did adopt and adapt Greek myths to fashion the beginnings of Roman history; it goes on to discuss the Roman gods of war and the ubiquity of war in Roman society and politics and how this was reflected in the Aeneas Foundation Myth, the Romulus and Remus Foundation Myth and the legends associated with the founding of Rome. Warlike Women in Roman Epic and Trojan heroes are discussed next and the use of mythology by Roman poets other than Virgil. The Theban Legion and the vision of Constantine myths conclude the book.
Of further interest...