Winston Churchill's Illnesses, 1886–1965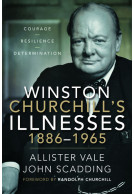 Released: 15th October 2020
RRP: £30.00
Introductory Price:

£24.00



Publisher: Pen & Sword Books
Author: Allister Vale
Type: Hardback
ISBN: 9781526789495
Pages: 522

Buy from Pen & Sword Books for

£24.00



Allister Vale and John Scadding have written the definitive account of Churchill's illnesses. Their expertise as physicians has been brought to bear on the interpretation of the evidence, much of it available for the first time…Vale and Scadding have produced a well-researched and highly readable book that will be essential reading for Churchillians and other historians of the period, as it provides so much new material and many new insights. Clinicians and general readers alike who wish to understand the impact of illness on arguably the greatest leader of the twentieth century will also find the book of great interest. - From the Foreword by Randolph Churchill

In this meticulously researched volume, Allister Vale and John Scadding provide a uniquely comprehensive and readable account of Churchill's many medical problems, from childhood to his terminal illness, set in the context of his life as one of the greatest statesmen of the twentieth century. Pneumonia threatened Churchill's life on several occasions and in his later decades he suffered multiple strokes; his ability to continue in high office during these illnesses was exceptional, aided by some of the most distinguished specialists of their time. Drawing on many medical and non-medical sources, the clinical, political and personal aspects of his many illnesses are woven seamlessly together. A superbly rounded account of the great man emerges in a most engaging narrative. - Andrew Roberts, author of Churchill, Walking with Destiny

Much has been written about Churchill's health and much has been rumour and speculation. This is the definitive work on the subject, written by experts and grounded in the evidence. - Allen Packwood, author of How Churchill Waged War

Allister Vale and John Scadding have written the definitive account of Churchill's illnesses and document all Churchill's major illnesses, from an episode of childhood pneumonia in 1886 until his death in 1965. They have adopted a thorough approach in gaining access to numerous sources of medical information and have cited extensively from the clinical records of the numerous distinguished physicians and surgeons invited to consult on Churchill during his many episodes of illness. These include not only objective clinical data, but also personal reflections by Churchill's family, friends and political colleagues.
Of further interest...