Works Trams of the British Isles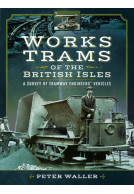 Released: 2nd December 2019
RRP: £25.00
Introductory Price:

£8.99



Type: Kindle

Buy from Pen & Sword Books for

£8.99



Often little known and generally unfamiliar to the passengers that used tramways, works trams were an essential facet of the efficient operation of any system – large or small – and this book is a primarily pictorial overview of the great variety of works trams that served the first generation of tramways in the British Isles. Although construction of most tramways was left to the contractor employed on the work, once this was completed the responsibility for the maintenance and safe operation of the system fell on the operator. The larger the operator, the greater and more varied the fleet of works cars employed; specialist vehicles were constructed for specific duties. Smaller operators, however, did not have this luxury, relying instead on one or two dedicated works cars or, more often, a passenger car temporarily assigned to that work. This book is a pictorial survey to the many weird and wonderful works cars that once graced Britain's first generation tramways.
Of further interest...